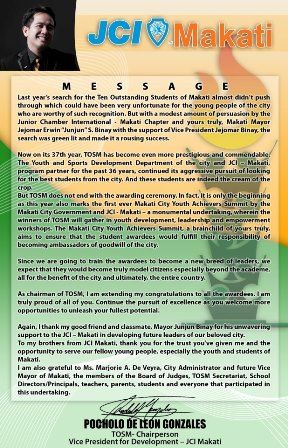 Pocholo "The VoiceMaster" Gonzales, Junior Chamber International (JCI) Makati Vice President for Development and TOSM Chairperson congratulates the awardees of this year's Ten Outstanding Students of Makati (TOSM).
This year's TOSM are the following:
Jeryl Abong (Benigno S. Aquino High School)
Ma. Queenie Anne Faye M. Galang (Fort Bonifacio High School)
Kimberly Peaches P. Tenorio (Colegio De Sta. Rosa)
Janine Christine DD. De Villa (St. Paul College of Makati)
Christian Z. Cariño (Makati Science High School)
Raphael Cecilio S. Rodolfo (Colegio San Agustin)
Michelle Ann B. Eala (Assumption College)
Mark Aldwin S. Albert (Don Bosco Technical Institute – Makati)
Josueá Libby's R. Mapagdalita (Pitogo High Schoo)
Joshua C. Agbon (Pitogo High School)
Each of these awardees was given a plaque of recognition, Paglingkuran ang Bayan medallions and gift certificates from Nailogy, Lunula, SumoSam, and Adidas Body Care during the awarding ceremony held last March 15, 2013, on the 22nd floor of the Makati City Hall.
Also, the VoiceMaster was one of the hosts during the awarding ceremony.